US-89; SR-126 to Perry

Overview
UDOT is evaluating design improvements along US-89 from SR-126 in South Willard to 3600 South in Perry. The US-89 subgrade material (e.g., compacted gravel) in this area has reached its operational expectancy and become unstable. Roads with an unstable subgrade result in quicker pavement deterioration and require frequent pavement repairs. Additionally, much of the existing surface drainage along this section of US-89 is uncontained resulting in ponding and roadway storm runoff (i.e., sheet flow) during stormy weather.
For more information about the project, please watch this brief video.
What to Expect
The environmental study and initial roadway design started in May 2022. Residents and business owners along the US-89 project area may see project team members gathering information near their property. This information could be used for the environmental study or for the design of the project.
UDOT held a public open house on Thursday, May 25th from 5:30 – 7:00 p.m. at Willard Elementary School. At the public hearing, UDOT provided a copy of the draft environmental study, an overview of the proposed design, explained how to comment, and answered general project questions. Please view the "Public Hearing Information" page for more information about the public hearing.
To accommodate the proposed roadway improvements, UDOT may need to purchase a small amount of property from you or purchase the right to temporarily access your property to complete work. Please review the design scroll plots on the "Public Hearing Information" tab to see if your property is impacted. If your property is impacted, please contact a member of the project team to schedule a one-on-one meeting to discuss specific property impacts and learn about the Right-of-Way acquisition process.
Project Area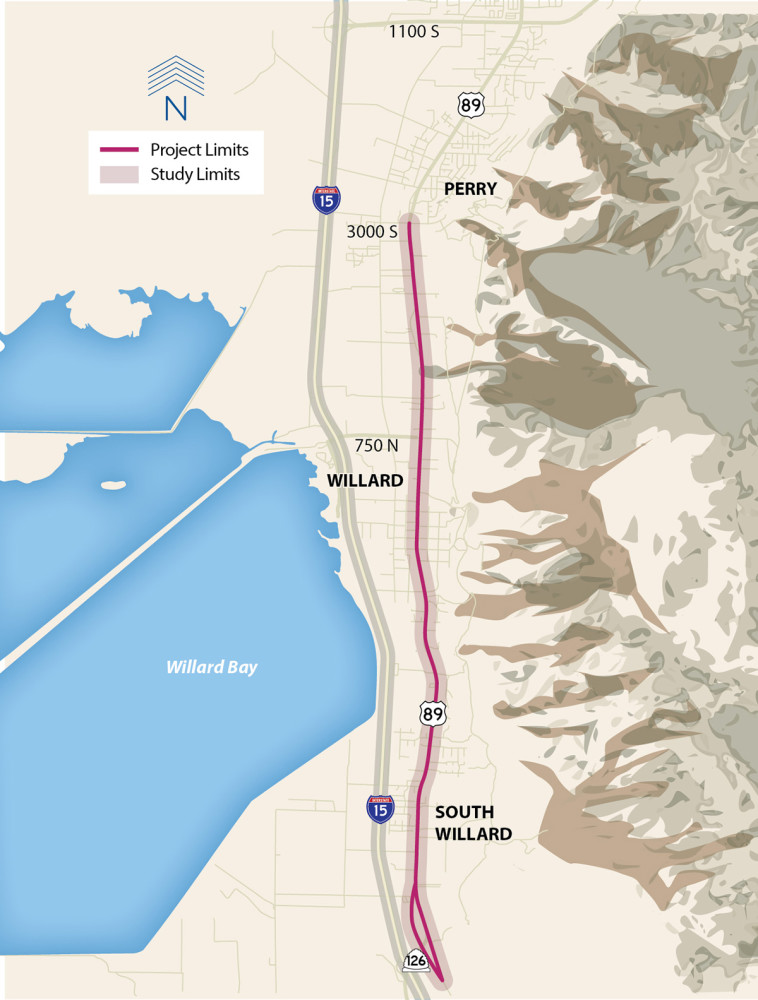 For questions or to be added to the project email update list, please contact us at: