Project Description
The Utah Department of Transportation (UDOT) will resurface State Route 51 in Utah County from State Route 147 (400N) Spanish Fork to Main Street in Springville City. The project objectives are aimed at preserving the life of the roadway. The chip seal and fog coat resurfacing process will help increase the longevity of the road surface, address roadway defects and enhance motorist safety by providing good skid resistance for vehicles. Additionally, a signal light will be installed at the Spanish Fork Parkway intersection.
| | |
| --- | --- |
| | Route: SR-51 / Start Milepost: 0 - End Milepost: 3.373 |
​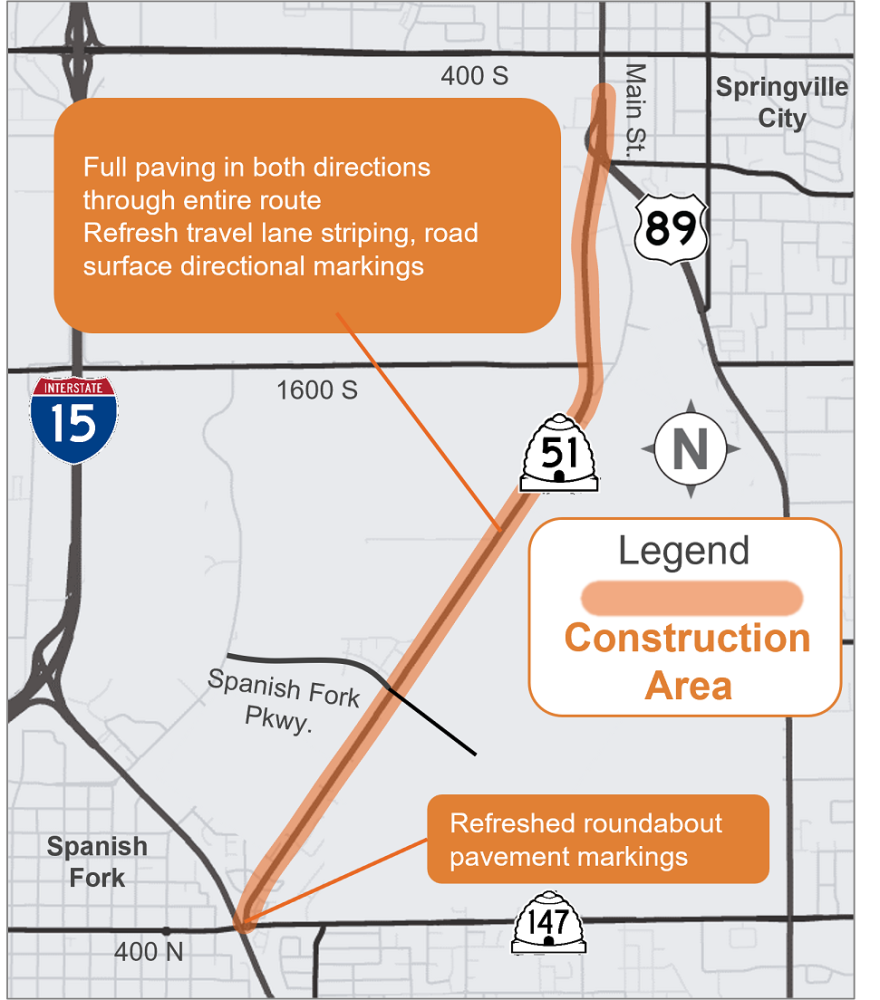 Schedule
Work Hours: Sunrise - Sunset
Workdays: Monday - Friday
Schedules are subject to change due to weather conditions and material availability.
March 15: Spanish Fork Parkway Int. Improvements
Details: This work includes the installation of pedestrian ramps, signal lights, and road widening on the East side of the intersection. Additionally, Spanish Fork Parkway will extend East bound past SR-51.
May 2 - 4: Misc. Patch and Road Prep
Details: The majority of this road patch work will occur from the mid and northern sections of the route. Moderate traffic delays are expected.
All patching to repair potholes and other major roadway deficiencies along the route will be completed. Additionally, all new and updated roadway signs will be installed.
[ see Impacts & Updates tab for traffic ]
Project Suspension
In order to facilitate ongoing coordination with Spanish Fork City on the planned intersection improvements at Spanish Fork Parkway, the SR-51 paving project will will remain ON-HOLD until late July.
Aug 7: Final Paving Begins
!! Shoulder Parking Not Allowed !!
This work should last approximately 10 days. However, the bulk of the heaviest delays will occur between Monday, Aug. 7 and Friday, Aug. 11. Moderate to heavy traffic delays are expected. Painting and striping work begins the week of Aug. 14 with short distance flagging operation.
[ see Impacts & Updates tab for traffic for alternates ]
Mid-August: Construction End
Note: Crews will return 30 days after construction completion(~September) to apply a second coat of travel lane paint lines.
Contact Information
To contact the public information team with questions or concerns:
Hotline: 435-990-1050
Email: sr51paving@utah.gov
Stay Informed
To receive weekly construction updated, please contact the public information team at the email address above and enter "SR-51 Paving Updates" in the subject line.