Para la traducción al español, haga clic aquí.
PROJECT UPDATES
Construction Activities September 7 - September 13
Utility relocation work by Rocky Mountain Power, Dominion Energy, Verizon, Comcast, Century Link, and other utility companies is continuing between 700 West and Redwood Road. To facilitate utility relocation work, shoulders and bicycle lanes will be closed. Pedestrians and bicyclists are encouraged to follow the posted detour route (see map below).
Work on a new detention basin has started on property in front of the Rocky Mountain Power substation. This detention basin will serve as a temporary home for water during large storm events before slowly releasing it into the Jordan River.
The new storm drain lines are being installed along 9000 South west from the River Oaks Driving Range.
Structure work continues at the Jordan River along with storm drain improvements on the south side of 9000 South near the Jordan River.
Crews are continuing to work on the new privacy walls between 1000 West and 1200 West on the south side of the street.
Construction Activities 700 West to State Street
Beginning as early as Saturday, September 16, crews will begin overnight work from 8:00 PM - 6:00 AM. Crews will remove the top layer of asphalt, make soft spot repairs to damaged ground under the asphalt, and install new asphalt along the corridor. This work will result in a smoother driving surface and increase the life of the roadway.
Drivers should plan extra time driving through the corridor as there will be lane restrictions/closures along with turning movement restrictions while crews work through the intersections. Area residents and businesses can expect an increase in noise, vibration, dust, and other construction related activities.
Fans leaving the Real Salt Lake games on Wednesday, September 20 and Saturday, September 23 can expect minor delays leaving Rio Tinto Stadium west on 9000 South from State Street to 700 West.
Nearby Construction Activities - 1300 West - West Jordan City Project
The West Jordan 1300 West project team will close northbound traffic on 1300 West between 9400 South and 9200 South starting as early as Thursday, September 7 lasting for the next three weeks. Visit the 1300 West project site to learn more.
Safety Update
Due to narrow and shifting traffic lanes without safety shoulders, the speed limit on 9000 South from 600 West to 900 West has been reduced to 35 miles per hour for the remainder of the construction project. Please slow down and use caution in this area.
Bicyclists and pedestrians should follow posted detour routes (below) and avoid using 9000 South between 700 West and the River Oaks Golf Course - please use the Jordan River Trail crossing as an alternate route.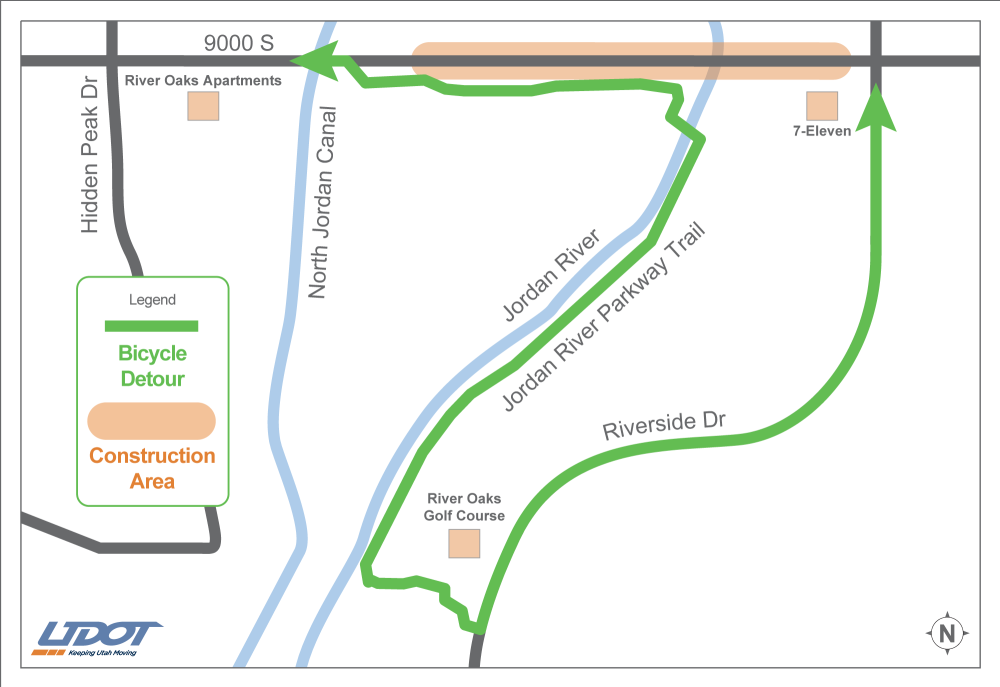 UTA Bus Route F590 - Due to construction activities, the bus stops within work areas may have temporary closures and stop adjustments. Visit UTA's website for specific stop information.
OVERVIEW
The Utah Department of Transportation (UDOT) will widen 9000 South between Redwood Road and 700 West, in West Jordan and Sandy, by adding a new eastbound and westbound lane, a buffered bicycle lane, and continuous sidewalks throughout the corridor. Additionally, 9000 South will be repaved between 700 West and State Street. The project is planned to begin July 5, 2023.
9000 South is a major east-west road that connects the growing communities in western Salt Lake Valley with I-15 and the eastern parts of the valley. This connection is leading to heavy congestion on 9000 South, and this congestion will continue to worsen. In addition, the exiting 9000 South roadway has insufficient shoulders and sidewalks and lacks bicycle facilities.
The project is intended to improve local east-west traffic performance by reducing intersection congestion and average vehicle delay while improving travel mode choices and safety on 9000 South. These improvements seek to decrease the crash rates along the corridor and improve travel mode choices and enhance safety for active transportation users – including adding buffered bicycle lanes and sidewalks on both sides of the roadway.
During the project, crews will strive to minimize the impacts to utility services and impacts to existing homes and businesses. Our Public Involvement team is actively communicating with area businesses and residents on construction schedules, potential impacts, and other inquiries.
ANTICIPATED IMPACTS
The contractor will utilize efforts to minimize impacts to neighboring residences, business, and the motoring public; however, it is likely the following impacts can be expected near/in the work zone:
Noise from construction activities, to include some overnight activity

Increase in vibration

Increase in dust - dust mitigation efforts will be utilized

Traffic delays due to lane restrictions and signal work
Work zones can be unpredictable. Motorists are encouraged to reduce speed and watch for changing traffic patterns, lane restrictions, and workers in the roadway.
Environmental Evaluation: Spring 2019 to Summer 2020
Right of Way Acquisition: 2020 to 2021
Advertise: January 2023 to March 2023
Receive bids from potential contractors
Dry Creek was selected as the contractor for the project.
9000 S Open House Meet the Contractor
June 28, 2023
5:30 PM - 7:30 PM
Riveside Elementary School
8737 South 1220 West, West Jordan
Start Construction: July 5, 2023
Work Hours: 7 a.m. - 5:30 p.m.
Workdays: Monday - Friday
Schedules are subject to change due to weather conditions and material availability.
There will be some night work and weekend work as part of this project.
End Construction: May 31, 2025
Contact Information
To contact the Public information team with questions or concerns:
Hotline: 855-925-2801 Project #5626
Email: widen9000south@publicinput.com
Stay Informed
To receive weekly construction updates, please contact the public information team at the email address above and enter "Weekly Updates" in the subject line
Area Projects
To learn more about the 1300 West widening project by West Jordan City, click here.
To learn more about the Dominion Energy Gas Line Project, click here.