U.S. Route 191 Indian Canyon Passing Lane
Utah Department of Transportation (UDOT) has designed improvements to U.S. Route 191 in the Indian Canyon area, approximately 13 miles south of Duchesne in Duchesne County. The road between milepost 280 and 282 will be widened to build a 2-mile long southbound passing lane. The new lane will be 12 feet wide. The project will also construct 6-foot wide shoulders on both sides of the road, replace several culverts to improve drainage, and update striping.
Work on the culvert replacements began in November 2023 with the remainder of the work slated for the 2024 construction year.
The passing lane is designed to improve safety by providing a space for faster vehicles to pass slower traffic and to increase capacity on a busy trucking route. These improvements will support the region's growing transportation and economic development needs.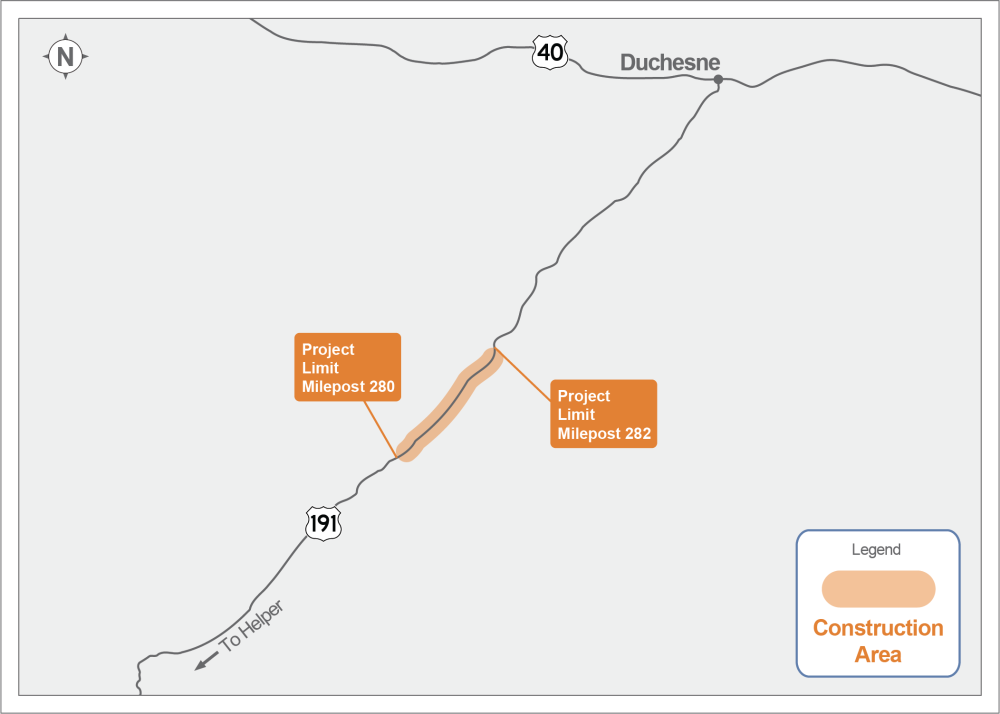 Project Design: Fall 2022 to Spring 2023
Project design is completed.
Emergency Paving Operation
Rotomilling and paving operations were completed in September 2023.
Start Construction
Crews will be replacing several culverts during November 2023.
Workdays: Monday through Friday
Work Hours: 7 am - 5 pm
Schedules are subject to change due to weather conditions and material availability.
Continue Construction
Construction of the passing lane is expected to resume in Spring 2024.
Contact Information
To contact the public information team with questions or concerns:
Hotline: 435-254-3305
Email: us191indiancanyon@utah.gov
Stay Informed
To receive email construction updates, visit the "Sign Up for Updates" tab.