Long-Range Rural Transportation Planning
The Utah Department of Transportation (UDOT) is currently updating the Long-Range Rural Transportation Plan.
Thank you to all who provided input on the plan's goals and objectives as well as your ideas to address transportation needs throughout rural Utah. The planning team is reviewing comments and using the feedback received to update the Long-Range Transportation Plan. Comments regarding items outside of the area for this plan are being rerouted to the appropriate planning jurisdictions.
The next formal comment period will take place in spring 2023 and will include an opportunity to review the proposed updated Long-Range Rural Transportation Plan. While the next formal comment period will take place in 2023, the public is welcome to provide input and ideas at any time throughout the planning process.
Individuals can continue to provide feedback, at any time throughout the planning process, in the following ways: ​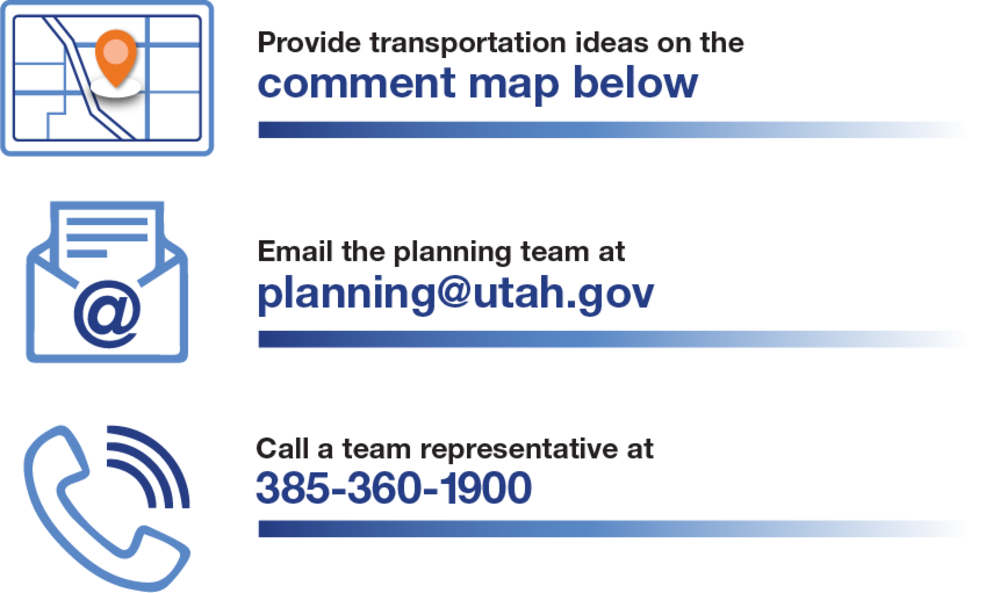 Comment Map
Transportation Needs
We have heard from the public regarding various transportation needs throughout the state related to general traffic, truck & RV traffic, transit and active transportation. These needs are displayed within the comment map below.
Community members have also identified important quality of life recommendations for the planning process, and asked UDOT to consider the following:
Consider future traffic levels, air pollution and respiratory health.

Prioritize safety, with particular attention given to vulnerable users.

Maintain and improve job access, food options and green space.

Ensure local communities are not burdened by transportation decision that primarily benefit pass through traffic.
Transportation Ideas
What are your ideas to address the needs depicted on the map below? Please view the state routes highlighted on the map and share your ideas to improve transportation in those areas. If you have ideas for rural state roads which are not represented on the map, please add them as well.
Click on the map below to share your ideas regarding the transportation needs included in the map. Your ideas will help to identify solutions for the Long-Range Rural Transportation Plan. Select the category most applicable to your comment.
1. Zoom in to an area on the map (greyed out areas on the map are considered urban areas, which are not included in this plan)
2. Click on the map to comment
3. Fill out the comment and submit
Solutions to solve needs may include adding travel lanes, adding passing lanes, improving intersections, adding transit service, adding active transportation (bicycle or pedestrian) facilities, modifying land use, adjusting access, providing traveler information, etc.
If the map is not loading or displaying correctly, try accessing the map directly, here. If further assistance is needed, please reach out to our team.


Survey
This Element Represents Embedded JavaScript