SR-59 Shoulder Widening
Project Overview
Shoulder Widening and Improvements

Lane Closures, and Flagging Operation - Expect delays of up to 15 Minutes

May through September

7:00 a.m. – 7:00 p.m. Monday – Thursd

ay
Blasting may be required during the project. Stakeholders will be notified if this is the case.
DUE TO POOR SIGHT LINES, MOTORISTS DRIVING FROM HURRICANE SHOULD REDUCE SPEED AND ANTICIPATE STOPPED TRAFFIC WITHIN THE CANYON AREA OF State Route 59.

Project Update
Sep 2 - Sep 16
Labor Day Schedule:
No work Friday, September 2, 11:59 A.M. to Monday, September 5, 11:59 P.M.
In the previous two weeks concrete crews have continued to work on pouring a 6' tall headwall. Additionally, protective rock Riprap material is being placed around the base of the wall. This material will add longevity to the structure.
Asphalt paving for the new shoulders have been ongoing this week. The new asphalt will receive a first coat of paint striping, and rumble strips next week. A second coat of paint will be administered to the roadway next month.
The majority of roadway excavation work has been completed on this project.
Please be aware, schedules may change due to weather or other unexpected circumstances.
Remember to put your phone down, be alert and reduce your speed

.

Poor sight distance within the canyon section means motorists may not always see traffic stopped on the roadway.
Signage through the corridor can change as the work dictates. Motorists are asked to remain aware of their surroundings at all times.
Motorists should remain in the designated lane of travel at all times. Avoid following construction vehicles which travel outside of the lane.
Environmental crews continue to maintain environmental protections.
Crews are working from 7:00 a.m. to 7:00 p.m., Monday through Thursday.
The entire project is expected to be completed by the end of October 2022*.
*Schedule is subject to impacts from weather, supply-chain disruptions and other unforeseen circumstances.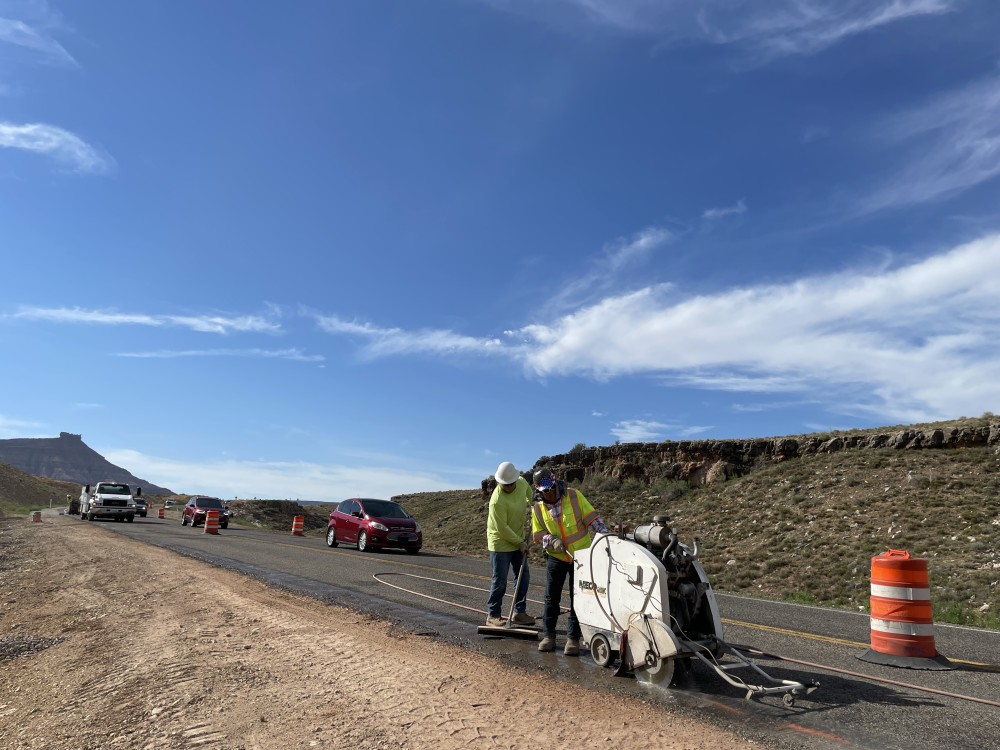 Workers performing the final Asphalt saw cut of the project!
Contact Us
​Mike Beck - Public Involvement Contact
435.862.9216
sr59@utah.gov
udotinput.utah.gov/sr59shoulders