State Route 18 Improved
The Utah Department of Transportation (UDOT) is improving the roadway on State Route 18. The work is divided into two areas: Ledges to Diamond Valley and Veyo to north of Central.
This project is a roadway asphalt rehabilitation project and will also make various improvements at different locations along SR-18, these include:
Pedestrian access ramps

Roadway and shoulder widening

Concrete barrier replacement

Dedicated turn lanes

Addition of two-way left turn lanes
Current Construction Activites
Temporary signals and one-way traffic will be in place between Ledges and Diamond Valley through May 3. Please anticipate up to 30 minute delays when traveling on SR-18 during this time. Additionally, single lane traffic restrictions on SR-18 between

Veyo

and Central will continue through August to accommodate road widening operations.
SMA

(deformation-resistant stone matrix asphalt) paving will begin as early as Thursday, April 20 and continue through April 29 between Ledges and Diamond Valley (approximately SR-18 mile posts 9 to 13). A section of northbound SR-18 between

Veyo

and Central will begin paving as early as Tuesday, April 18 and continue for approximately two days.
Weekend Work
On Saturday, April 22 and Sautrday, April 29, crews will continue construction activities on State Route 18 during daylight hours. Please plan travel accordingly to accommodate for minor travel delays during this period.
Coming Up
Ironman North American Championship
Events for the Ironman North American Championship will be held the weekend of May 5-7. All construction operations will cease between Friday and Sunday to accommodate the event. You can find course maps here and more information about the race and any resulting traffic impacts here.
Schedule
Work will continue through Fall 2023. Please expect:
Short travel delays at each location

Temporary signals, pilot cars, and flaggers

Equipment and workers near travel lanes

Daytime work Monday through Friday with occasional weekends
Construction schedules are subject to change due to weather, material, equipment, or labor challenges.
Project Area Map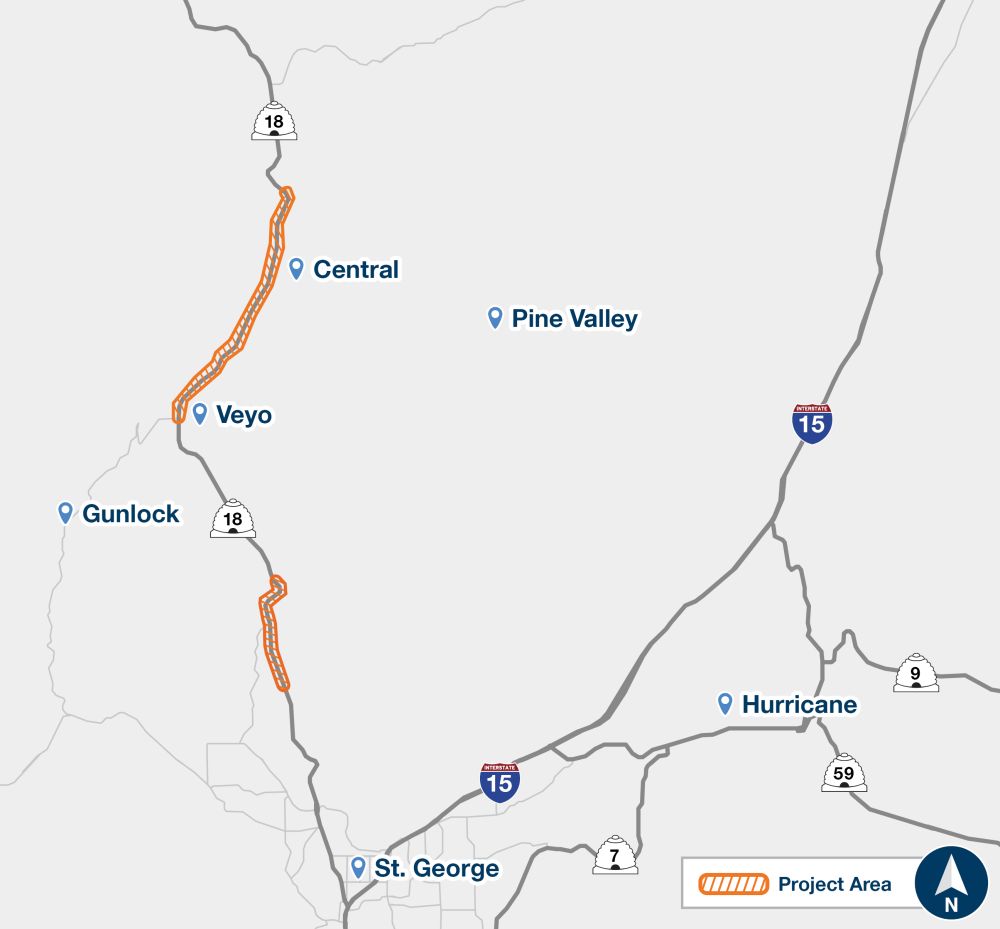 Contact Us!
Project Hotline: 866.777.1850
Project Email: sr18improved@utah.gov