SR-178 and SR-198 Renewed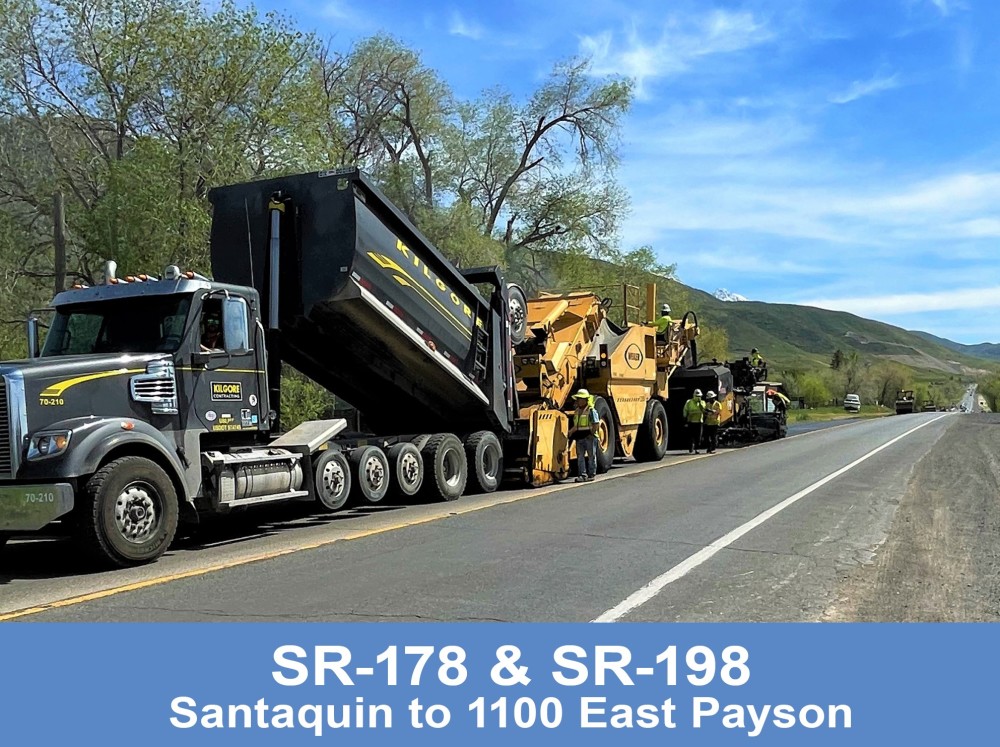 ---
UPDATE
Crews will not be working July 1-4 due to the Independence Day Holiday.
Crews have begun work on the final layer of road resurfacing for the entire length of SR-198. One half of the roadway (show in blue) is expected to be completed this week; the red half of the roadway begins next week.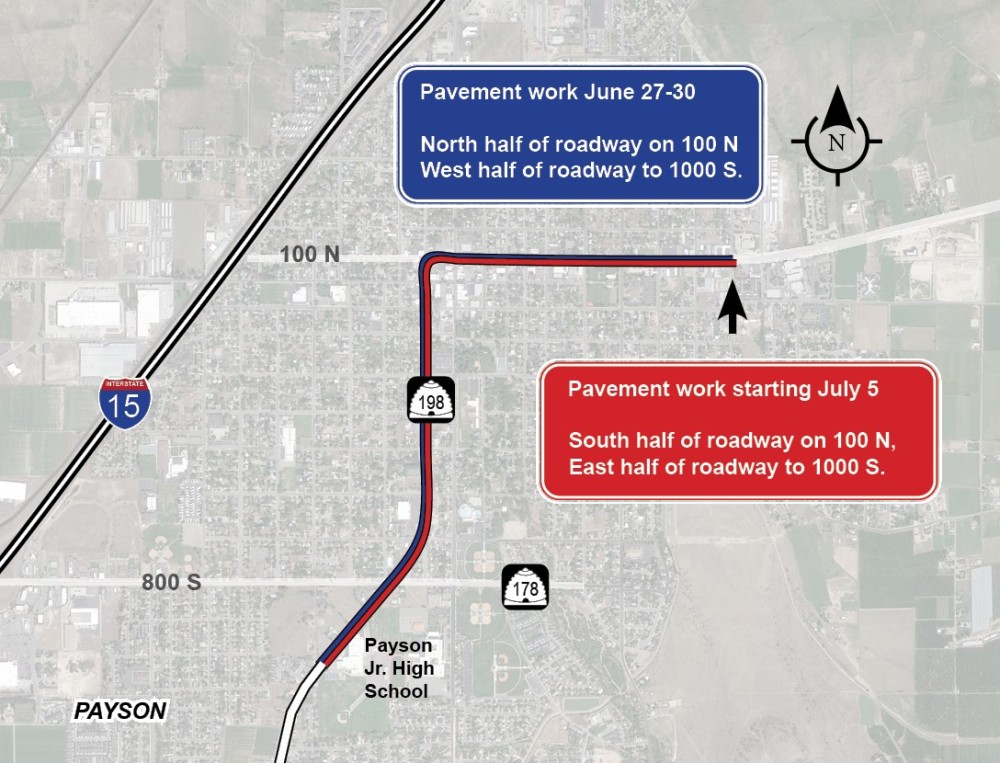 When resurfacing work on the north end of the SR-198 is complete, work crews will begin the same process on the southern project limits of SR-198 (from 1000 South to Main Street, Santaquin).
All pavement work is expected to be completed by mid-July.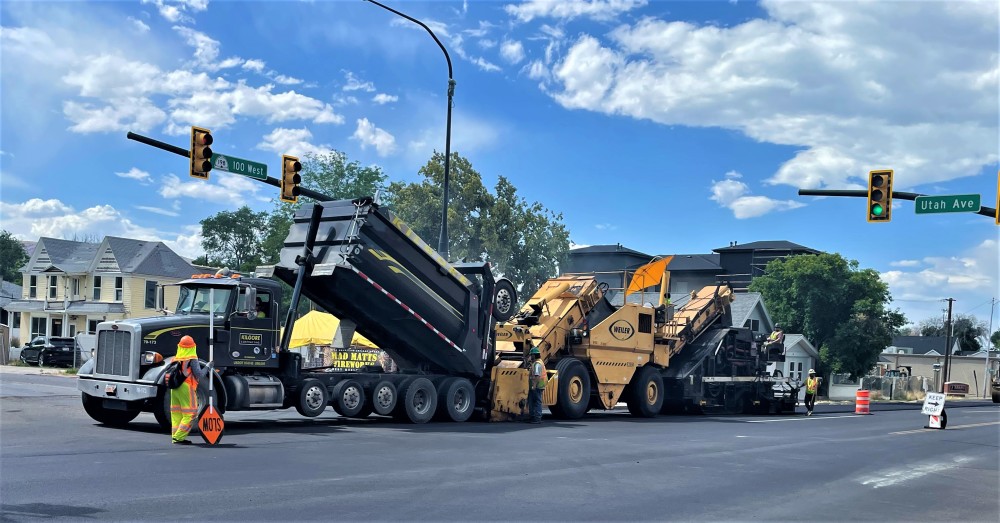 ---
The final layer of road resurfacing on SR-178 (800 South) is complete and temporary traffic control patterns have been lifted. Crews will be working to raise manhole covers on 800 South as concrete supplies permit. The permanent striping has been delayed until the thermal marking crosswalk can be applied by the new signal at 930 West. This is expected to take place Tuesday, July 4th.
Note: Payson City is continuing a sewer line upgrade project on 800 South (east of SR-198 to Main Street). For further questions regarding this project please contact Payson City.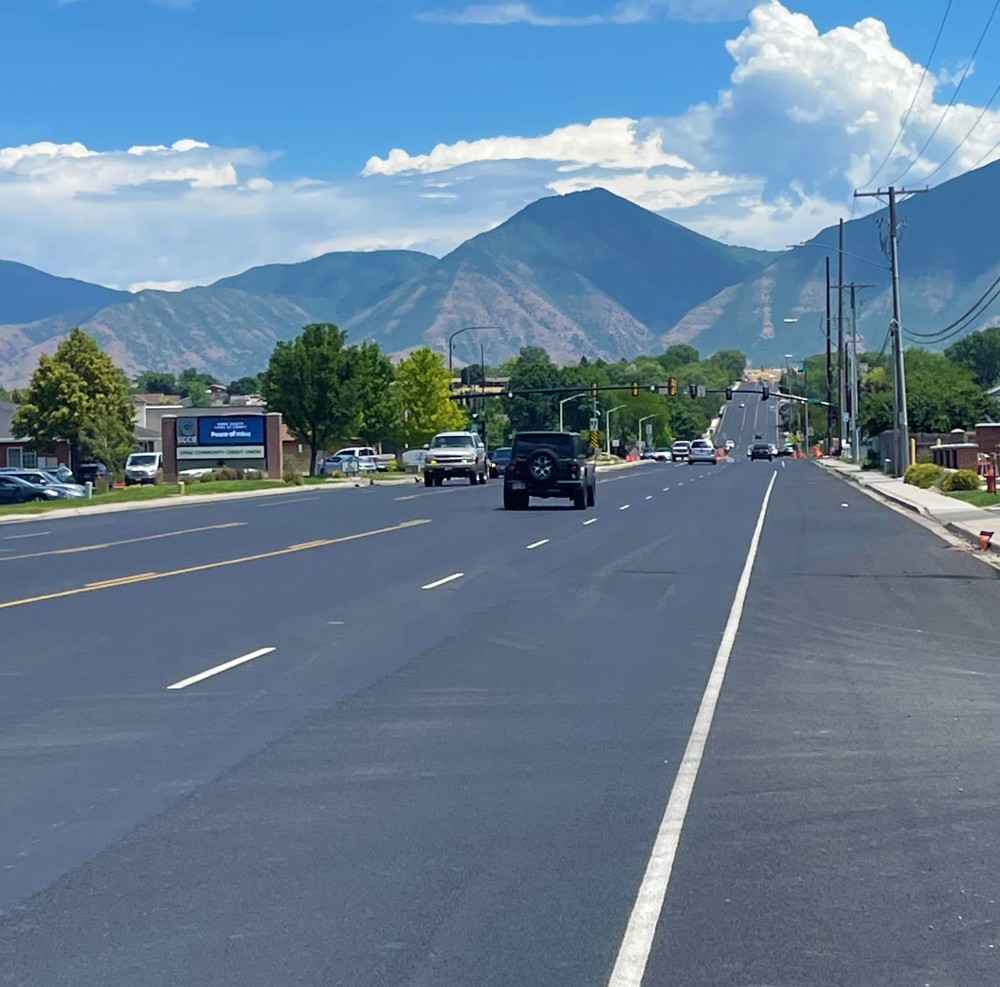 Bridge Work
Bridge repairs and resurfacing work is complete on the bridge (800 South over I-15) and traffic control has been restored to original patterns.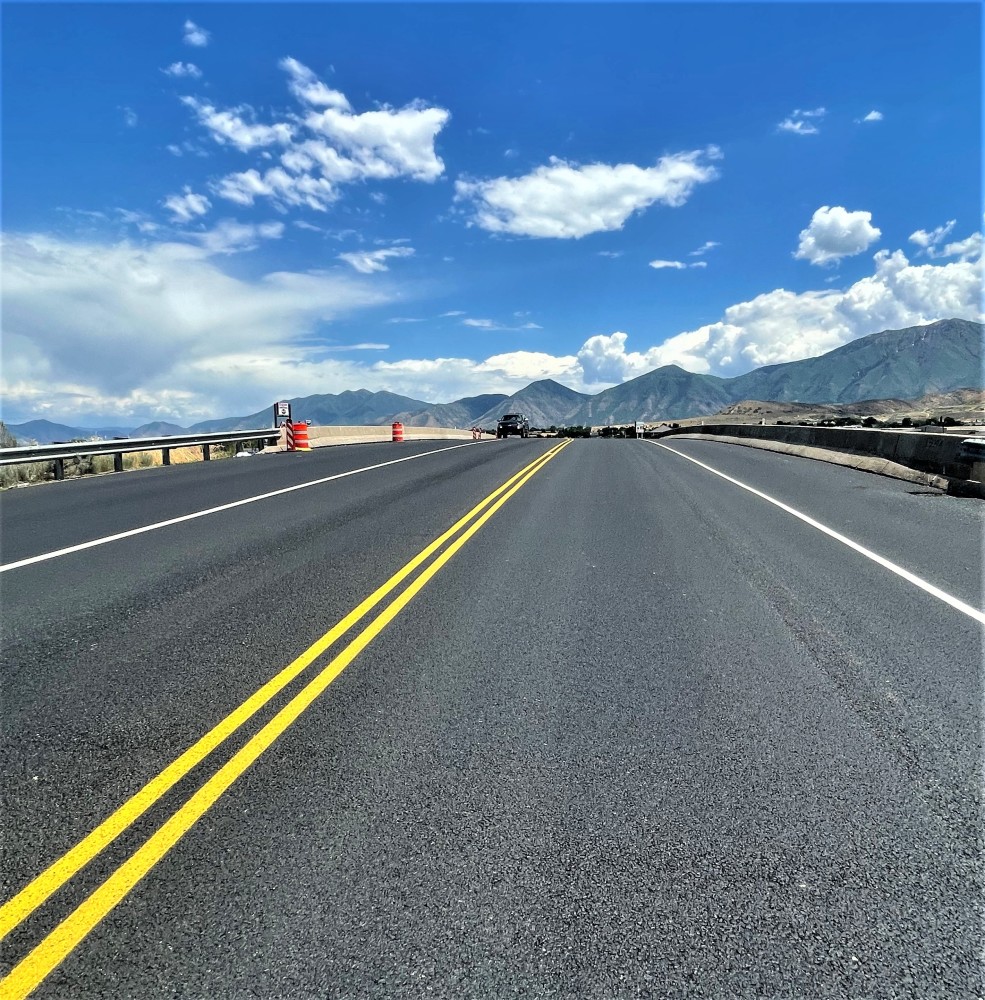 ---
Concrete Work
Work on pedestrian ramps, sidewalks and gutters is complete, except for some repair work and clean up. This repair work will be completed as soon as concrete supplies allow
---
New Signalized Intersection (800 South & 930 West)
The installation of the new traffic signal at 800 South and 930 West is complete. When the thermal crosswalk markings have been applied, the traffic signal will be made operational. The expected date for this work is Tuesday, July 5th.
With the new traffic signal, UDOT will need to prohibit on-street parking from 1000 West to 830 West (see map) to ensure all driving, biking, and pedestrian movements are as visible as possible.
The new center median that has been installed at the traffic signal site also increases traffic safety and pedestrian safety.
.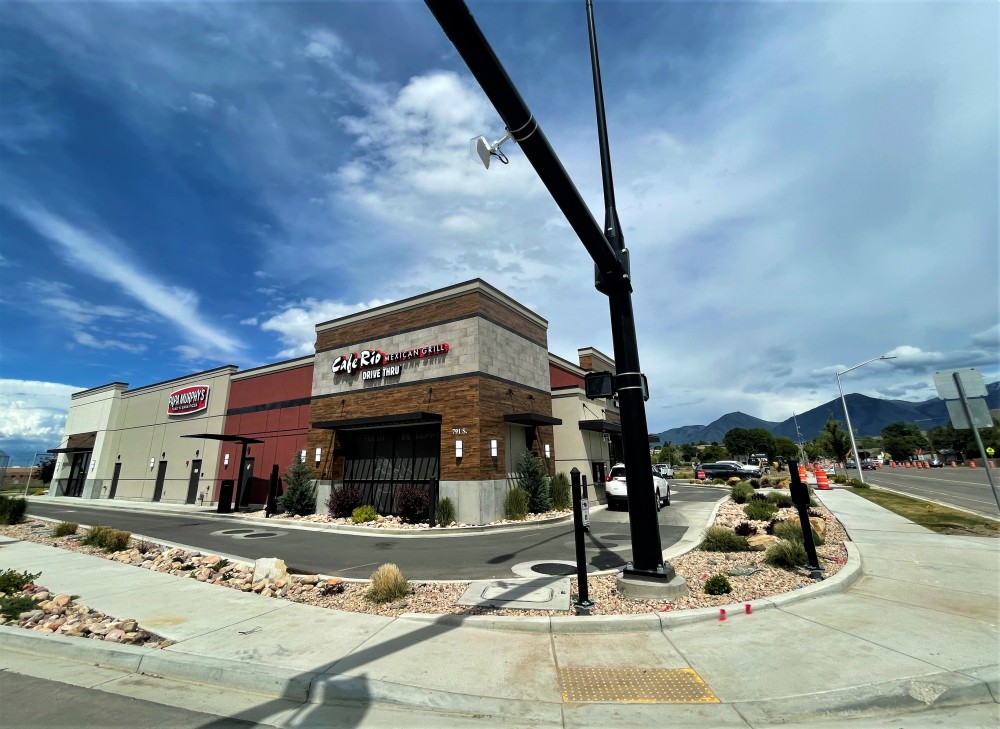 OVERVIEW
The Utah Department of Transportation (UDOT) will be resurfacing State Routes 198 and 178 [Payson 800 South (see map)] to extend the life of the roadways. In addition, pedestrian ramps will be reconstructed, and improvements will be made to existing bridges.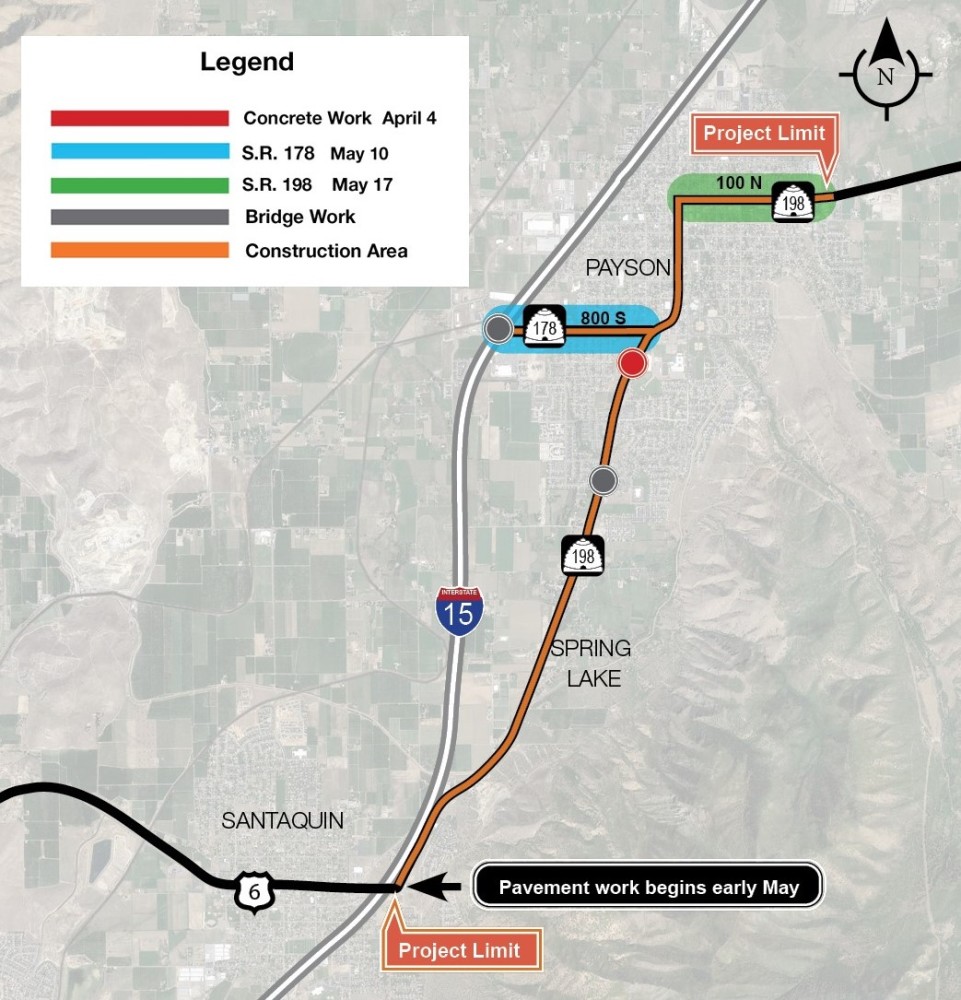 IMPACTS
Construction work will be done in segments.
Access to driveways and property entrances will be maintained but property owners should expect periodic, brief interruptions during removal and placement of pavement. Motorists should anticipate
lane shifts and/or lane restrictions where crews are working. Businesses and residents nearby may experience noise, vibrations, and dust from the construction equipment.
SAFETY
Please drive carefully when traveling through construction areas and pay attention to all traffic signs, barrels, the workers, and equipment operating within the work zones.
SCHEDULE
Start Concrete Work: April 4, 2022
Start Asphalt Work: Early May, 2022
End Construction: Mid-summer 2022
Work Hours: 7 a.m. - 5 p.m.
Workdays: Monday - Friday
Schedules are subject to change due to weather conditions and material availability.
STAY INFORMED
To receive weekly construction updates, please contact the public information team at the email address below and enter "S.R. 198 Updates" in the subject line.
CONTACT INFORMATION
To contact the public information team with question or concerns:
Hotline: 888-704-4301
Email: carinphenriksen@utah.gov