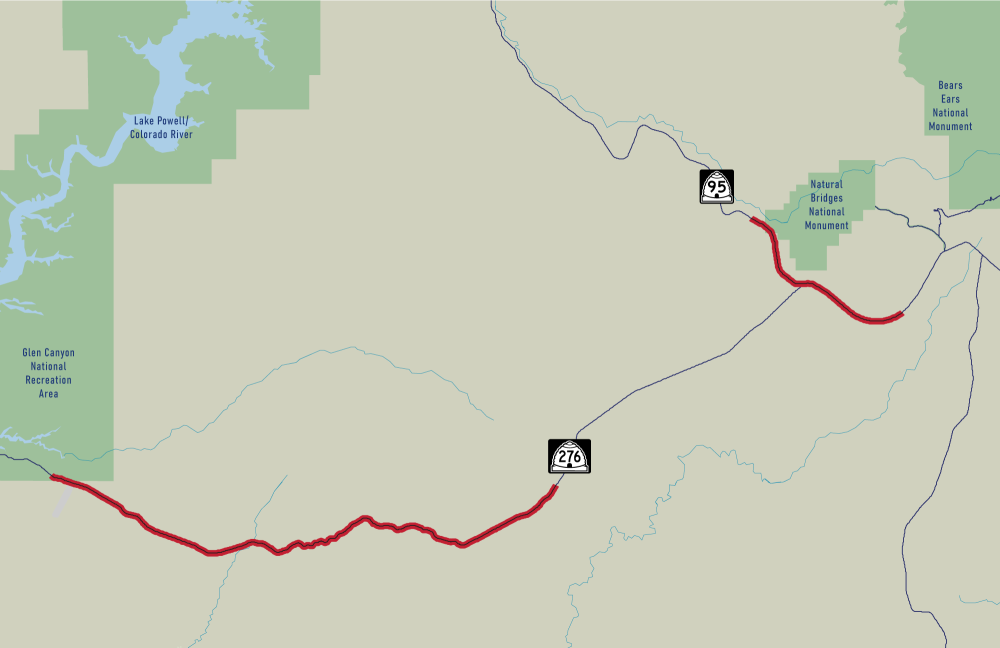 State Route 276 and State Route 95 Resurfacing Project in San Juan County
Project Overview
The Utah Department of Transportation (UDOT) is rehabilitating SR-276 from the Cal Black Airport to milepost 77 and SR-95 from milepost 80 to 88 in San Juan County, Utah through fall 2022*. Work will include the removal and replacement of asphalt to make a smoother ride and extend the life of the roadway, guardrail and barrier replacement, box culvert repair, and sign replacement. This work will require single-lane closures with flaggers and motorists can expect delays of up to 15 minutes from 7 a.m. to 5 p.m. Monday through Friday.
*Dates are subject to change due to weather, equipment availability or other circumstances
Safety Message: SR-276 is reduced to one-way traffic in a 3-mile stretch. Temporary signals are controlling traffic and all motorists must stop on red and wait for green to proceed for the safety of all motorists and our crews.
Current Activities:
Crews continue with paving activities on SR-276 headed east. SR-276 is restricted to one-way traffic during this work controlled by temporary. Motorists are advised to obey all traffic control and may see delays of up to 15 minutes during this work.

Beginning as early as next week crews will start work on guardrails, barriers and cattleguards in some areas.
Contact Information
Public inquiries regarding the project may be sent to SanJuanUdotProjects@utah.gov or by calling the hotline at 888-556-0232.