Washington Boulevard Renewed
To preserve and extend the life of the pavement, the Utah Department of Transportation (UDOT) will conduct a project to resurface SR-235 (Washington Blvd) in North Ogden, between 400 North (North Street) and 2600 North. The project also includes replacing sidewalk pedestrian ramps, upgrading road signs, and installing a new concrete bus platform at the UTA bus stop located near the southwest corner of Washington Blvd and 2550 North.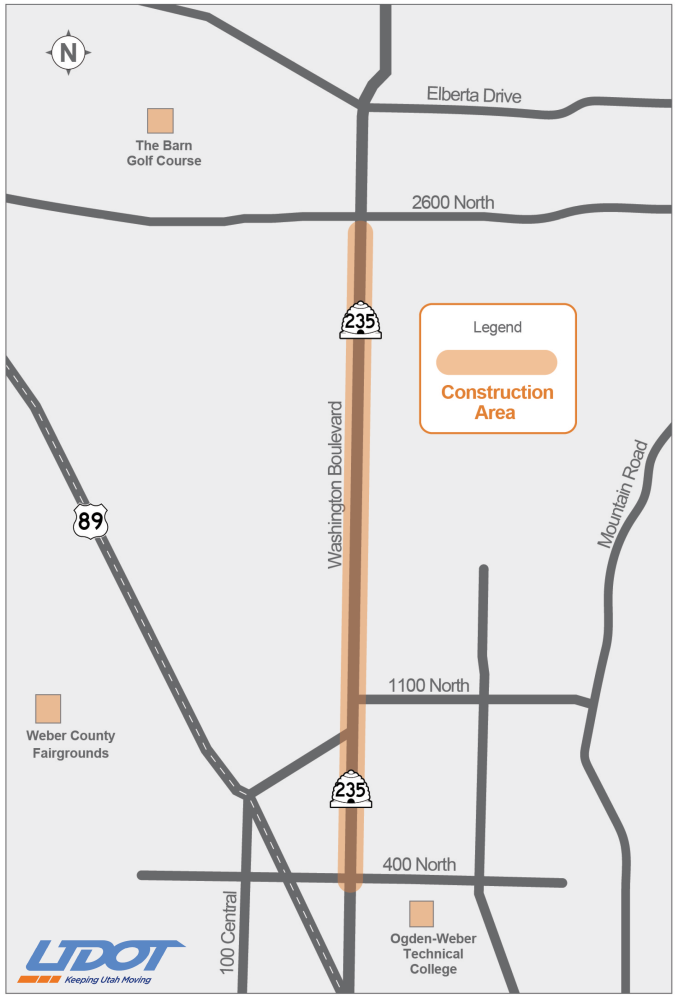 Work began on May 1, 2023, and is expected to wrap up by the end of June 2023.
*Schedules are subject to change due to weather conditions and material availability.
Start Day Work: May 1, 2023
Sidewalk pedestrian ramp replacement, sign installation, etc.
Work hours: 7 AM to 5 PM
Work days: Monday through Friday
Start Night Work: May 8, 2023
Road work begins
Work hours: 7 PM to 5 AM
Work days: Sunday nights through Friday mornings
End Construction: Late-June 2023
Contact Information
To contact the public information team with questions or concerns:
Hotline: 877-495-4240
Email: udotregion1@utah.gov
Stay Informed
To receive weekly construction updates, please contact the public information team at the email address above and enter "Washington Blvd Paving" in the subject line.