US-89 Orem Improved

Safety Improvements to begin at Center Street & State Street as early as July 18
Since the 2018 Orem State Street Mobility Study, the Utah Department of Transportation (UDOT) and Orem City have been working together to address traffic congestion and safety on State Street. The study identified a number of intersections that could be improved in Orem by adjusting signal timing, adding designated right-turn lanes, installing raised medians, extending turn-pockets and allowing U-turns where feasible. Making State Street safer, more efficient, and predictable is an important priority for UDOT, Orem City, businesses, property owners and motorists.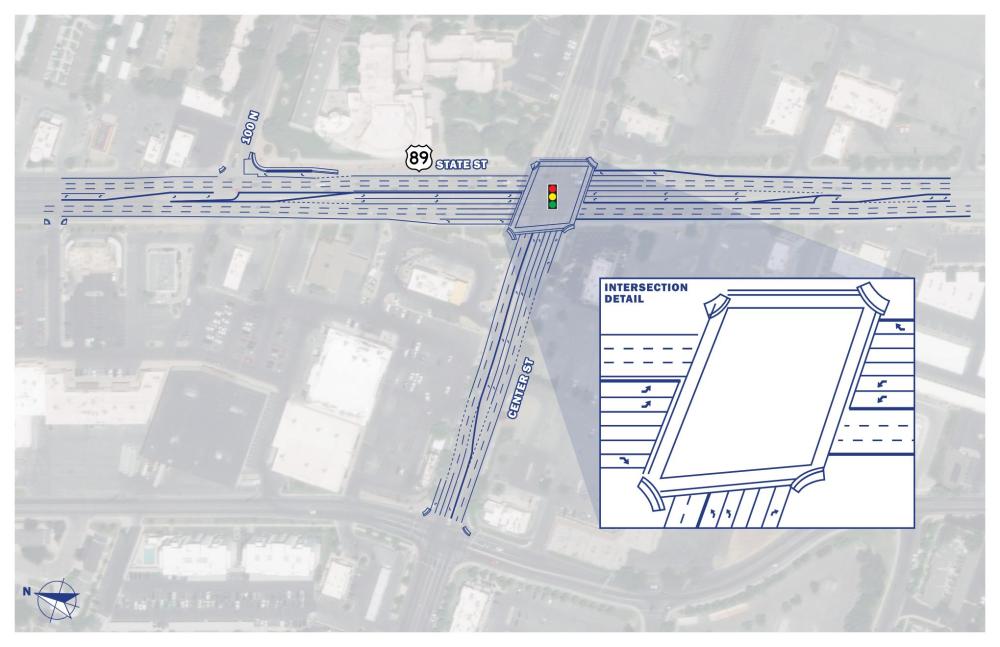 CENTER STREET & STATE STREET
Construction at the intersection of Center Street and State is ongoing. Improvements include:
raised medians on State and Center

pedestrian ramp replacement extending turn-lanes

signal timing

resurfacing the roadway
Construction Activities and Impacts
Beginning as early as December 5*, crews will be back onsite working at the intersection of State (US-89) and Center Street. Work will include:
Installation of new pedestrian poles for the signal crossings on the northeast and southeast corners.

Sidewalk reconstruction headed east from the northeast corner.
This work will take place for approximately two weeks and impacts will include shoulder and turn lane closures while work is taking place.
*Dates are subject to change due to weather, equipment availability or other circumstances
Future Safety Improvements
Safety, accessibility and mobility enhancements in these areas will include:
improving signal timing

adding designated right-turn lanes

installing raised medians

extending turn-pockets

allowing U-turns where feasible
Future Locations Include:
800 North (Canyon Crossing Area)

University Parkway & State Street

400 North & State Street

1200 North & State Street

1600 North & State Street

800 South & State Street