Project Overview
The I-15 Nephi Bridges project is a $17.8 million project that is part of UDOT's effort to preserve infrastructure and extend the life of the pavement and bridges across the state. This project occurs along a 19-mile stretch of I-15 through Nephi and will replace two existing bridge decks, repair nine other bridges, and replace sections of concrete pavement.
Work and traffic impacts are expected daily, from 7 a.m. to 7 p.m. Construction is anticipated to last through the end of 2023.
I-15 through Nephi is an active construction zone with reduced speed limits, lane closures, and traffic delays. Please plan for extra travel time and slow down for the safety of yourself and the construction crews.
See the "Traffic Impacts" tab for more details!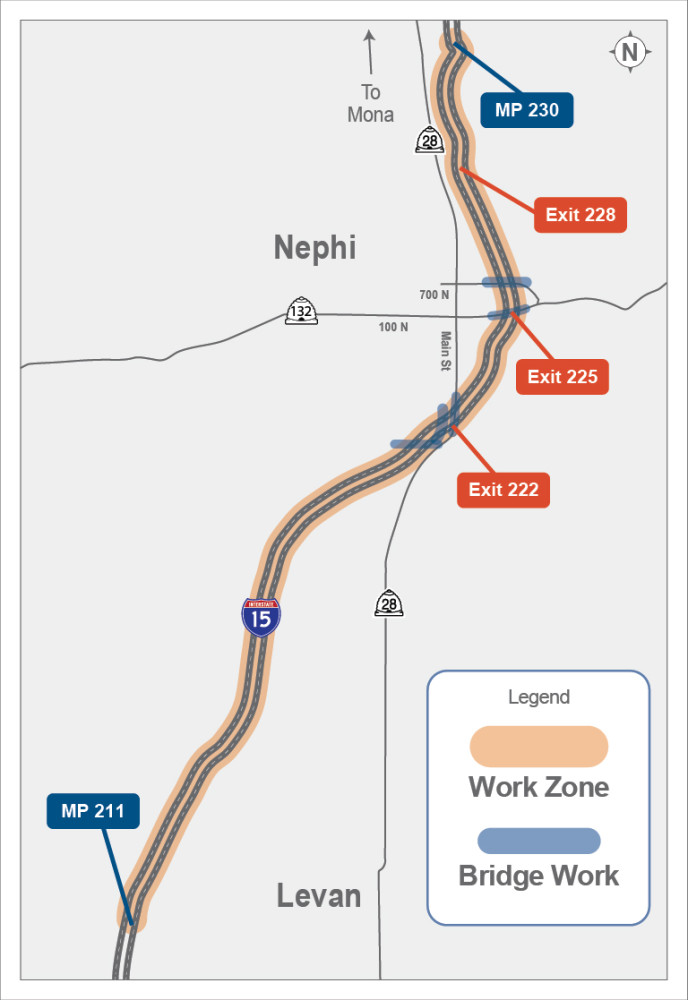 Design: Spring 2021- Fall 2022
Construction: Summer 2023 - Spring 2024
Contact Information
To contact the public information team with questions or concerns:
Hotline: 435-417-9417
Email: nephibridges@utah.gov
Stay Informed
To receive weekly construction updates, please contact the public informaiton team at the email address above and enter "Weekly Updates" in the subject line.