I-80 Bridges Improved
PROJECT OVERVIEW
The Utah Department of Transportation (UDOT) I-215 Southbound Frontage Road project team is designing a new, two-lane frontage road system on the southbound I-215 from 4100 South to 4700 South in Taylorsville. The improvements will include:
Addition of retaining walls
Installation of a box culvert at North Jordan Canal
Improvements to trails and trail connections
The purpose of this project is to improve connectivity from I-215 to the local roadway network by implementing one link of the larger planned, overall frontage road system along I-215 and thereby improving the mobility of people, goods and services to and from the project area. The design phase started in late 2022 and will continue through 2023. Construction is slated to begin in spring 2024.
PROJECT OVERVIEW
The Utah Department of Transportation (UDOT) is improving the eastbound and westbound I-80 bridges at Echo (milepost 168) and Wanship (milepost 155) in Summit County. This work will include installing new barriers or guardrails at some locations and replacing the bridge approach slabs – the part of the structure that carries traffic between the road and the top of the bridge.
Work began on westbound I-80 at the Echo bridge on Monday, Oct. 3, and will last through November 2022, pause through the winter, and resume in spring 2023. Spring work will last for approximately two months and include the eastbound I-80 bridge at Echo and the I-80 bridges at Wanship.
To accommodate this work, the I-80 bridge under construction will be reduced to one lane. The inside lane will remain open while crews complete work on the outside lane. Once finished, the outside lane will remain open while crews complete work on the inside lane.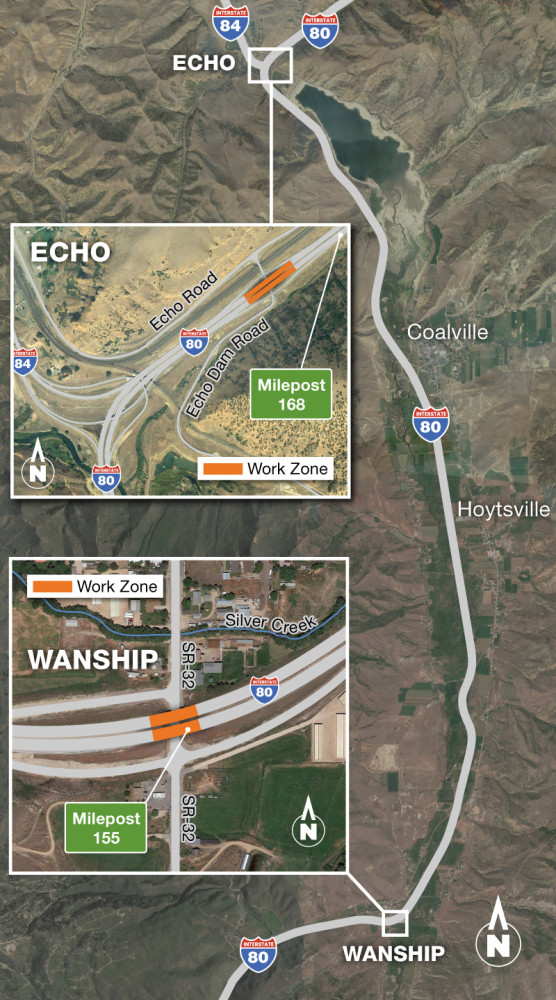 WHAT TO EXPECT
Daytime work

7 a.m. to 5 p.m.

Monday through Friday

Reduced speed limit

Traffic restrictions in place 24/7

Minor delays
Lanes will be narrowed to 11 feet and shoulders narrowed to 2 feet. Wide loads should exit westbound I-80 at Echo (Exit 169) and enter westbound I-80 from the on-ramp at Echo to avoid the lane width restriction.
CONTACT US
Hotline: 385-758-2040
Email: i80bridgesimproved@utah.gov