Project Overview
The Utah Department of Transportation (UDOT) will repair or replace storm water pipeline at various sections along US-91 (Main Street) on either side of the roadway. The purpose is to preserve the reliability of the pipeline by reducing further deterioration and ensure proper storm water drainage.
Route: US-91 | Start Milepost: 25.65 - End Milepost: 27.91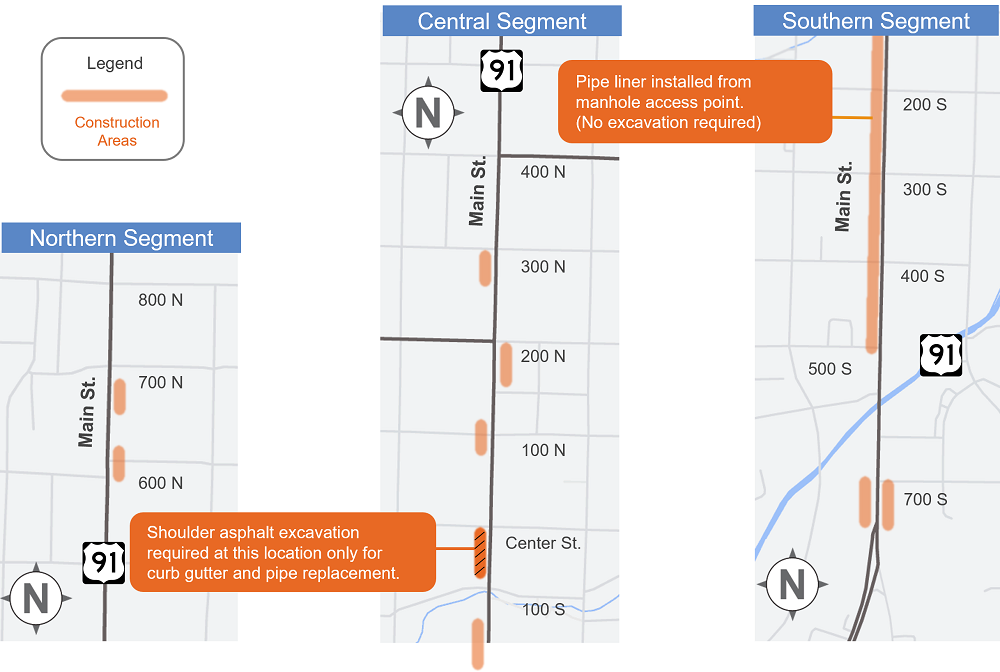 2023 Schedule
Work Hours: 9 p.m. - 7 a.m.
Workdays: Sunday Night - Friday Morning
Schedules are subject to change due to weather conditions and material availability.
Start: Active as of August 1
Details: [ Updated 9/20 ]
Various storm water pipeline repairs along work.
Excavation and replacement of pipeline between Center and 100 S currently underway, and will continue through the end of September.
End: Late September
Approximately 70 day total construction time
Contact Information
To contact the public information team with questions or concerns:
Hotline: 435-990-1050
Email: us91stormpipe@utah.gov
Stay Informed
To receive periodic construction updates, please contact the public informaiton team at the email address above and enter "Storm Pipe Updates" in the subject line.