PROJECT OVERVIEW
The Vineyard Connector is a north-south corridor planned to be constructed west of I-15 connecting Geneva Road (SR-114) in Vineyard to Pioneer Crossing (SR-145) in Lehi. The Utah Department of Transportation (UDOT) and Vineyard City are working together on a segment of the corridor from Main Street to 1600 North in Vineyard.
Work would include:
A new two-lane road (one lane in each direction)

A grade separated pedestrian crossing (to be built separately)
This project will benefit the rapid growth in Vineyard and compliment efforts to develop the town center, consolidate rail lines, and complete the Utah Transit Authority's (UTA's) FrontRunner station. Design and construction of the remaining Vineyard Connector segments are unfunded but are identified as being needed in Phase 1 of MAG's 2050 regional transportation plan (2021-2030). Watch the team talk more about the project on a Vineyard City Facebook Live here.
WHAT TO EXPECT
Day work Monday through Saturday, 7 a.m. – 7 p.m.

Night work as needed

Additional truck and construction vehicle traffic in the project area

Increased noise, vibration, dust and lighting
LANE CLOSURE AT 800 North At Main Street
Starting as early as Monday morning, July 17, at 7 a.m. and lasting through the remainder of the project, crews will reduce westbound 800 North to one lane at Main Street to accommodate shoulder work. Drivers should plan ahead and anticipate minor travel delays.
CLOSURE ON 1600 NORTH
In coordination with the Vineyard Pipeline project, crews will close access to Vineyard Road at the intersection of 1600 North and 300 West in Vineyard as early as Wednesday, Sept. 27, through Monday, Oct. 16, to accommodate road work. 
During this closure, drivers will still be able to access the Lindon Marina's parking lot.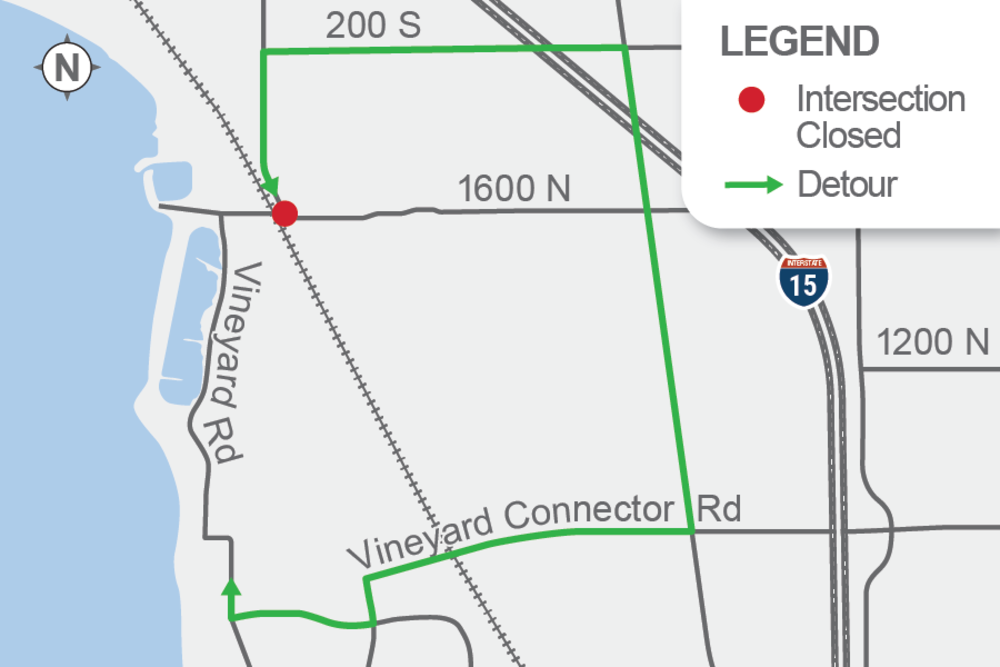 OVERPASS BRIDGE PROJECT OVERVIEW
UDOT, in partnership with Vineyard City, will construct an overpass bridge across the new Vineyard Connector roadway extension that is scheduled to be built from 800 North to 1600 North. The overpass is planned to be wide enough to accommodate:
A new two lane road (one lane in each direction)

Bike lanes

Sidewalks (ranging between 10-24 feet in width)
The bridge will increase connectivity and safety for Vineyard City residents by providing a pedestrian and bicycle-friendly overpass that will connect the city's planned town center and FrontRunner station to Utah Lake and residential areas west of the Vineyard Connector.
SCHEDULE
ROADWAY CONSTRUCTION: Early - Late 2023
OVERPASS CONSTRUCTION: 2024 - 2025
CONTACT INFORMATION
HOTLINE: 385-853-VINE (8463)
EMAIL: vineyardconnector@utah.gov
This Element Represents Embedded JavaScript