About
The Utah Department of Transportation (UDOT) is preparing a Documented Categorical Exclusion (DCE) to evaluate a realignment of about 2.6 miles of U.S. Highway 191 located approximately 12 miles north of Vernal, Utah, between mileposts 364.7 and 367.3. Currently, this stretch of highway is a series of steep switchbacks that can be challenging and hazardous to motorists and semi-trucks. The proposed project will eliminate the switchbacks, reduce the grade in key locations, construct standard-width shoulders, add a runaway truck ramp, and other safety features. These enhancements will result in a more efficient and safer travel through the area, improving the driving experience for all users.
Project Area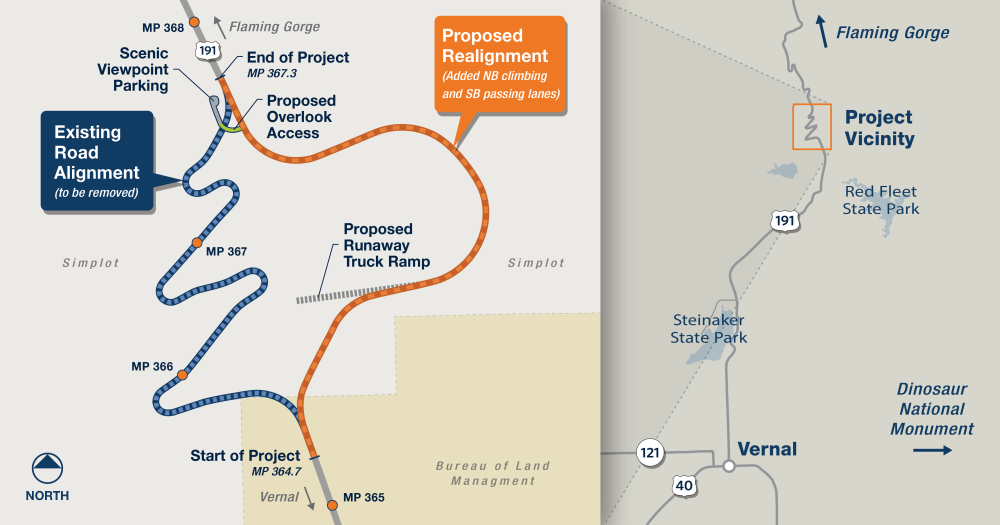 Purpose and Need
| | | |
| --- | --- | --- |
| | | |
| There have been multiple crashes on this section of US-191, especially involving trucks. | As a major freight corridor, a realignment of US-191 in this location would make it easier for semi-trucks to safely navigate the area. | With expanded oil production and interest in recreational activities, the amount of traffic is expected to increase. |
Project Enhancements
| | | |
| --- | --- | --- |
| | | |
| A continuous uphill climbing lane and a downhill passing lane will be added to allow traffic to pass slower traffic safely. | An emergency truck ramp will be added. | Grade reductions in key locations. |
| | | |
| --- | --- | --- |
| | | |
| Eliminating the current switchback design will reduce the chances of semi-truck rollovers. | Wider curves along this stretch of highway will be easier to navigate and allow motorists to maintain consistent speeds. | Improved access to the scenic overlook will allow drivers to appreciate the beauty of the Uinta Basin. |
Project Benefits
Safety

The project enhancements will improve overall safety for semi-trucks and motorists.

Improved drivability

The elimination of switchbacks and the addition of wider curves will improve visibility and maneuverability.

Efficiency

Flatter roadway curves, reduced grades in key locations, and improved passing lanes increase driving efficiency.
Project Timeline

Public Hearing
The public is invited to attend a public hearing open house to learn about the project and speak to UDOT representatives. Project experts will be on hand to answer any questions and concerns about the project.
US-191 Realigned Public Hearing
Tuesday, January 17, 2023
4 p.m. - 7 p.m.
Vernal City Hall Community Room
374 E Main St.
Vernal, UT 84078
What is a Documented Categorical Exclusion?
Transportation projects vary in impacts to the natural and human environments. These environmental impacts of a project can range from minor to significant. Some projects may require extensive analysis to understand to impacts before a project can begin. A Categorical Exclusion (CE) is a type of project where a federal agency has determined that a particular project does not have a significant effect on the environment. This means that the project will not require an extensive study as other projects.
The Federal Highway Administration (FHWA) has developed lists of actions that are to be documented as a CE. These are actions that:
Do not induce significant impacts to planned growth or land use for the area
Do not require the relocation of significant numbers of people
Do not have a significant impact on any natural, cultural, recreational, historic or other resource
Do not involve significant air, noise, or water quality impacts
Do not have significant impacts on travel patterns
Do not otherwise, either individually or cumulatively, have any significant environmental impacts.
Go to https://www.ecfr.gov/current/title-23/chapter-I/subchapter-H/part-771 for more information!