Antelope Drive Renewed
Route: SR-108 / Start Milepost: 0 - End Milepost: .694
Project Description: The Utah Department of Transportation (UDOT) will resurface state route 108 in Davis County from the 1200 West (milepost 0) to just west of Main Street (milepost .694). This project objectives are aimed at preserving the life of the roadway by preventing the deterioration of the road surface, address roadway deficiencies, and enhance motorist safety.
SCHEDULE
Design & Environmental Phase: 2022
Construction Start Date: As early as June 12, 2023
Construction Days: Sun –Thu; Fri – Sat only as necessary
Construction Hours: Nighttime work only; 7 p.m. to 6 a.m.
Completion Date: Work expected to last approximately 40 days
Note: Schedules are subject to change due to weather and material availability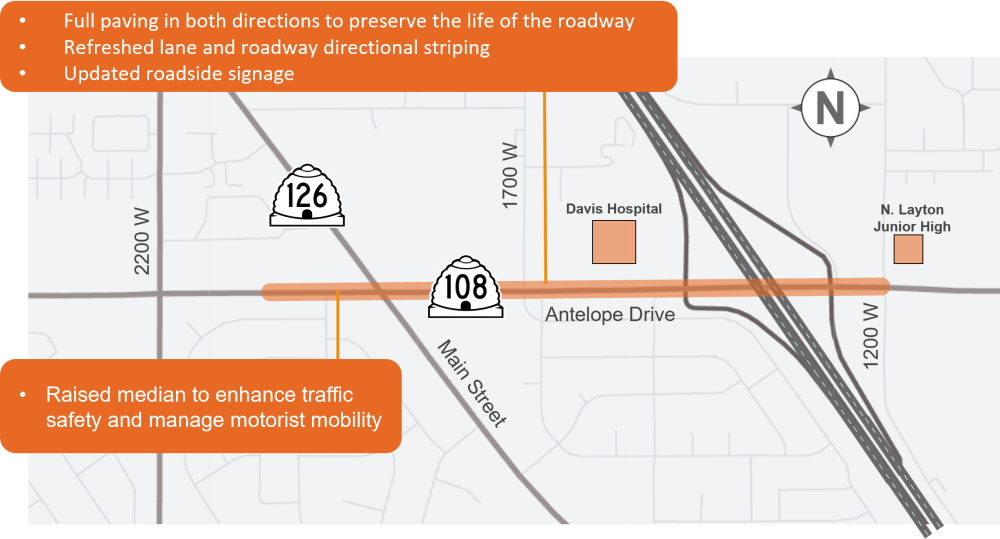 LATEST REAL-TIME TRAFFIC CONDITIONS
or download the latest UDOT Traffic App.
---
FOR IMMEDIATE PROJECT INQUIRIES
Jeffrey Putzke, Public Information Manager
Hotline: 435-990-1050
Email: AntelopePaving@utah.gov
UDOT PROJECT PAGE