Construction Update | November 15, 2023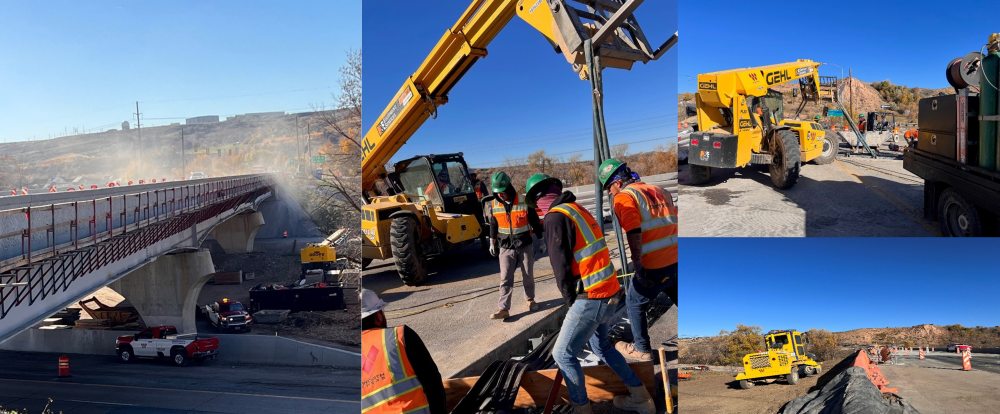 Construction crews will pause work on Wednesday, Nov. 22 at 3 p.m. through
Monday, Nov. 27 at 5 a.m. in observance of the Thanksgiving holiday. Traffic control will remain in the area to protect the work zone.
The Utah Department of Transportation (UDOT) is completing bridge construction activities on the Adams Avenue bridge for winter. Work will resume in the spring.
Construction Update
As crews transition into the final phase of work, they are installing rock material along the bridge foundation to prevent erosion, completing drainage activities, and bridge joint placement.
Upcoming Work
Road striping

Cleanup work

Guard rail installation
What to Expect
Daytime work

Monday – Saturday (7 a.m. – 5 p.m.)

Temporary lane configuration will remain in place until early December

Occasional nighttime work

Lane restrictions and shifts

Noise, dust, vibration

Heavy equipment, support vehicles, and crew members
---
Traffic Reminders
On I-84, eastbound/westbound lanes will be closed intermittently throughout the project duration

Drivers be alert to changing traffic patterns and lane shifts, follow posted signs, anticipate short delays and use caution while traveling through the work zone
Drivers
For your safety and the safety of crew members onsite, please do not enter the work areas and stay away from equipment

Be aware of equipment and workers near travel lanes
---
Project Overview
The Utah Department of Transportation (UDOT) will be removing and replacing the existing deck of the Adams Avenue bridge over I-84 in Weber County. Additional construction activities include miscellaneous structural improvements and updating the drainage system. This project will enhance safety and preserve the life of the bridge.
Schedule
Construction began - Spring 2023

Project completion - Spring 2024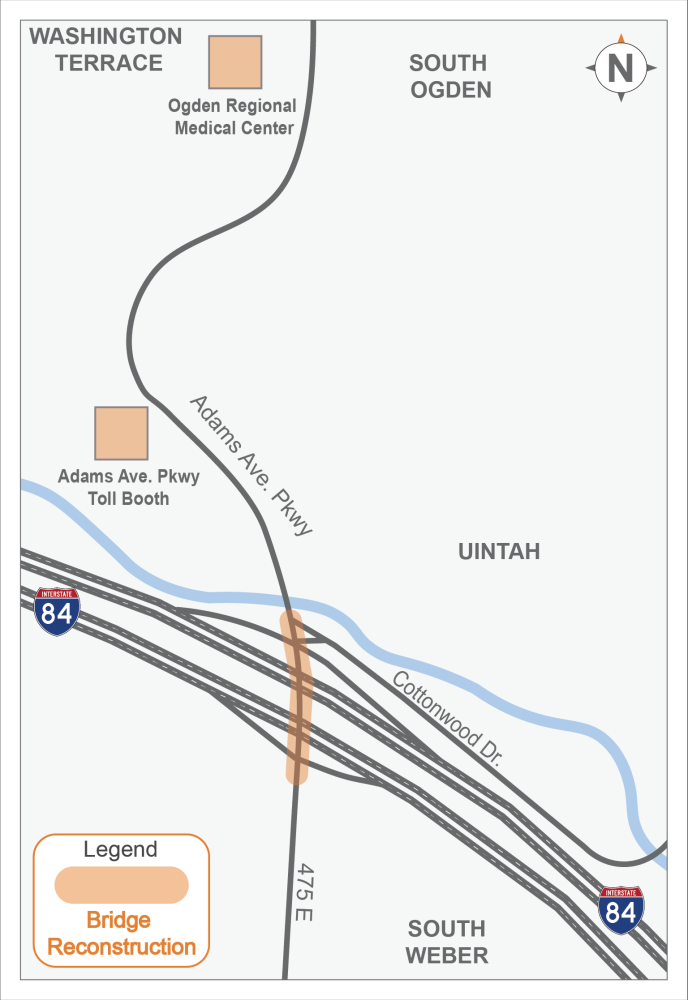 Construction Begins (Spring 2023)
Work Hours: 7 a.m. - 5 p.m.
Occasional nighttime work
Temporary lane configuration will remain in place until early December
Work Days: Monday-Saturday
*Construction schedules are subject to change due to utility, material, weather, or equipment delays.
Project Completion (Spring 2024)
Contact Information
The project team is here to assist, please call or email with any questions:
Hotline: 855-740-8740
Email: adamsavenuebridge@utah.gov
Stay Informed
Want the latest? Sign up for email updates by emailing adamsavenuebridge@utah.gov with "Subscribe" in the subject line.
---
Project impacts to travel can be found on the UDOT Traffic Website, www.udot.utah.gov/traffic or by downloading the UDOT Traffic app.