Construction Activities
Independent third-party utility work will continue until the beginning of October. If you experience disturbances, please get in touch with the respective utility company:
Rocky Mountain Power: 1-888-221-7070
CenturyLink: (800) 251-4505
Dominion Energy: 1-800-323-5517
Taylorsville-Bennion Improvement District: 801-968-9081 (after hours hotline: 801-483-3454)
Utopia: 801-613-3880
Comcast: 1-800-934-6489
Syringa 208-229-6100
oogle Fiber: 1-866-777-7550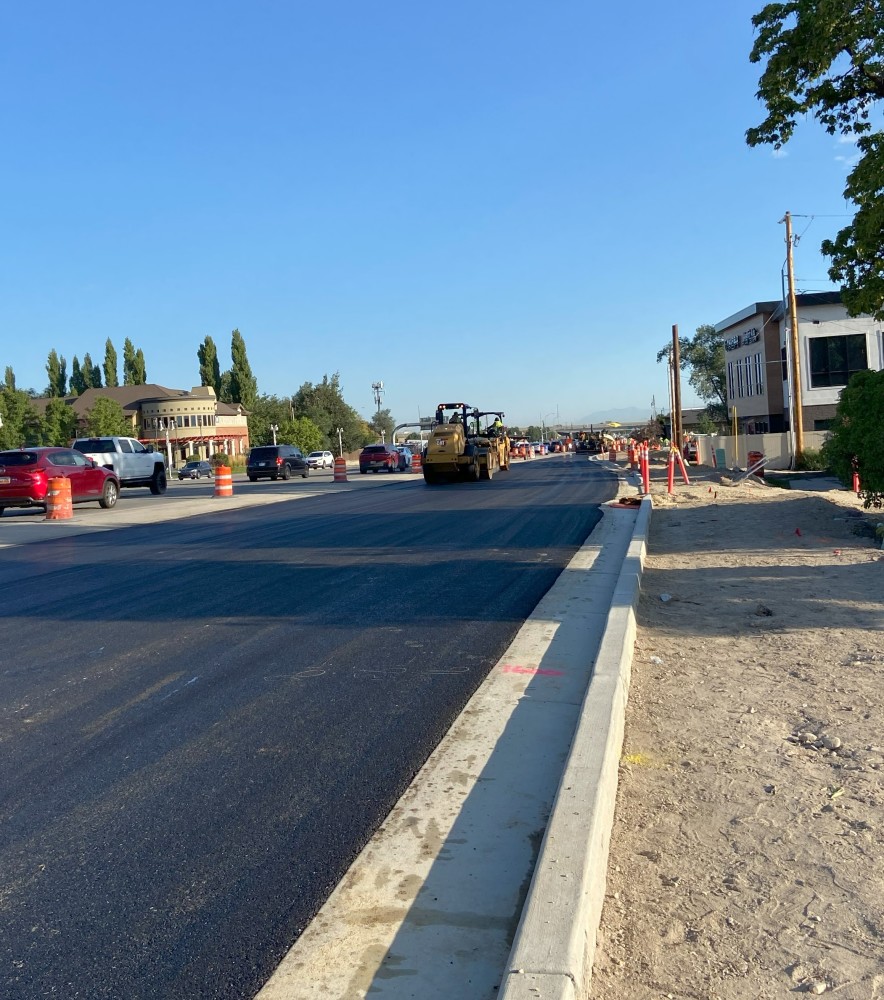 Crews will continue preparing areas for sidewalk and driveway installations on the east side of Redwood Road from the EB I-215 on-ramp to 6200 South. Crews will also prepare areas for the curb and gutter installations south of 6200 South.
Intermittent driveway closures are expected. Please get in touch with the public involvement team at 385-955-5595 if you have any questions or concerns about your driveway.
Pipe installation will continue moving southbound on the east side of Redwood Road. These activities will also take place on 6200, crossing Redwood Road to the west. Drivers can expect steel plates on the roadway and shifting lanes as this work takes place.
The left turn lane from westbound 6200 south to southbound Redwood Road will be closed through the end of October. See the alternate route map below.

Some night work is expected between 7 p.m. to 6 a.m.

Nearby residents can expect noise, dust, nighttime lighting, and vibration in the area.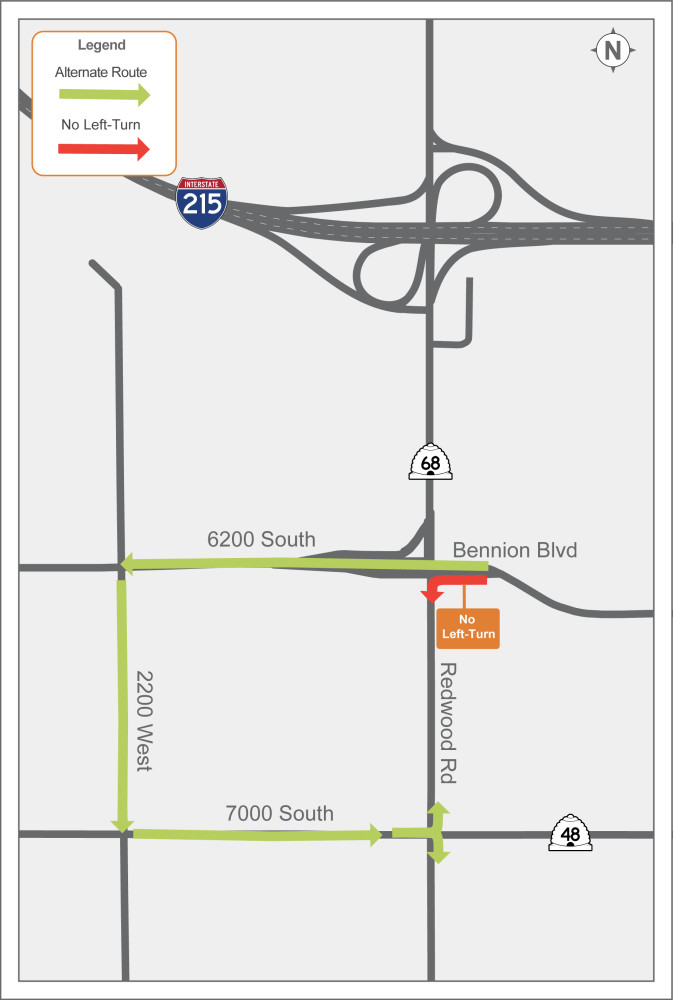 Drivers
Pay attention to shifted travel lanes with width restrictions. Lane will remain in shifted configuration through the end of the project.

Speed limit is reduced and will be enforced.

Follow posted signs & use caution while traveling through the work zone.

Anticipate delays through this area and consider alternate routes.
Project Overview
The Utah Department of Transportation (UDOT) will begin construction on SR-68 (Redwood Road) from 6200 South to I-215 in Spring 2023. In order to improve traffic flow and increase safety on the corridor and at the interchange, this project will:
Add a northbound travel lane from 6200 South to the I-215 interchange

Install a partial continuous flow intersection (CFI) to the south leg of the 6200 intersection for northbound traffic

Place dual on-ramps lanes on both eastbound and westbound accesses onto I-215.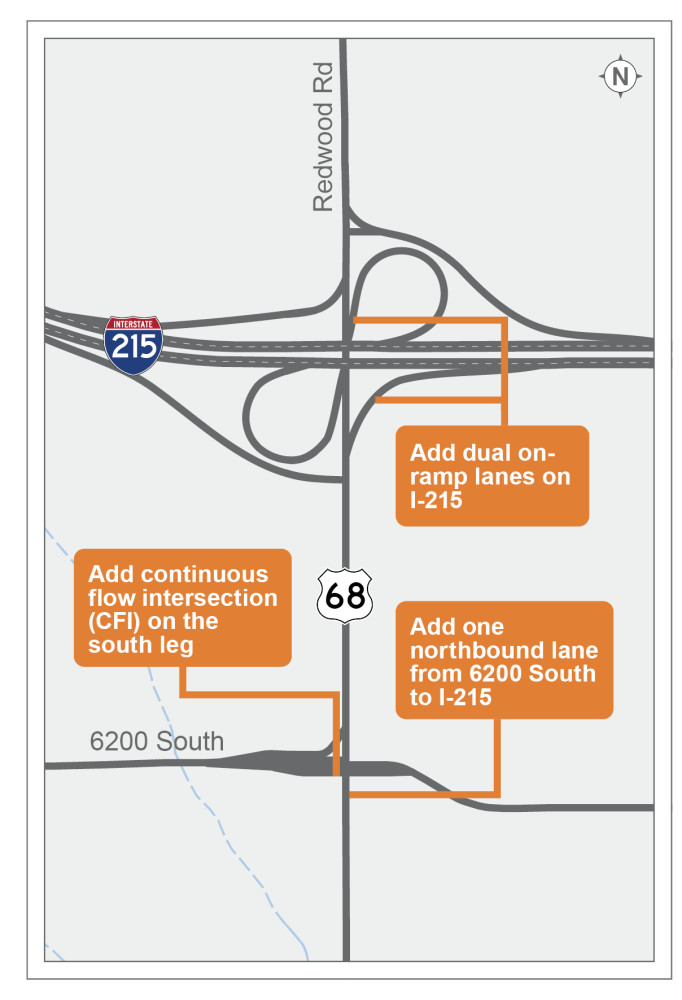 What to Expect
​Lane restrictions and travel delays

Sidewalk may be temporarily closed on the east side - Detours will be marked

Day and night construction activities

Increased noise, dust, and vibration

Construction equipment and vehicles near travel lanes

Utility work
Utility Hotlines
Rocky Mountain Power: 1-888-221-7070
Dominion Energy: 1-800-323-5517
Taylorsville-Bennion Improvement District: 801-968-9081 (after hours hotline: 801-483-3454)
Construction: Spring 2023 - Spring 2024
Daytime Work Hours: 7 a.m. to 5 p.m.
Nighttime Work Hours: 7 p.m. to 6 a.m.
*Schedule are subject to change due to weather conditions and material availability.
UDOT Top Ten Projects Articles:
Stay Informed:
To stay up-to-date on construction progress and impacts, please email redwoodroadupdated@utah.gov with "Subscribe" in the subject line.
Project Contact:
Call/Text: 385-955-5595
Email: redwoodroadupdated@utah.gov